Regular price
Sale price
$15.00 USD
Unit price
per
Sale
Sold out
Our Coat Conditioner combines a unique blend of therapeutic ingredients to nourish and enhance your horse's coat. Our innovative formulation includes silk peptides, panthenol, aloe gel, sweet almond oil, avocado oil, and colloidal silver. These components work together to promote a soft, resilient, and radiant coat.
Learn more
View full details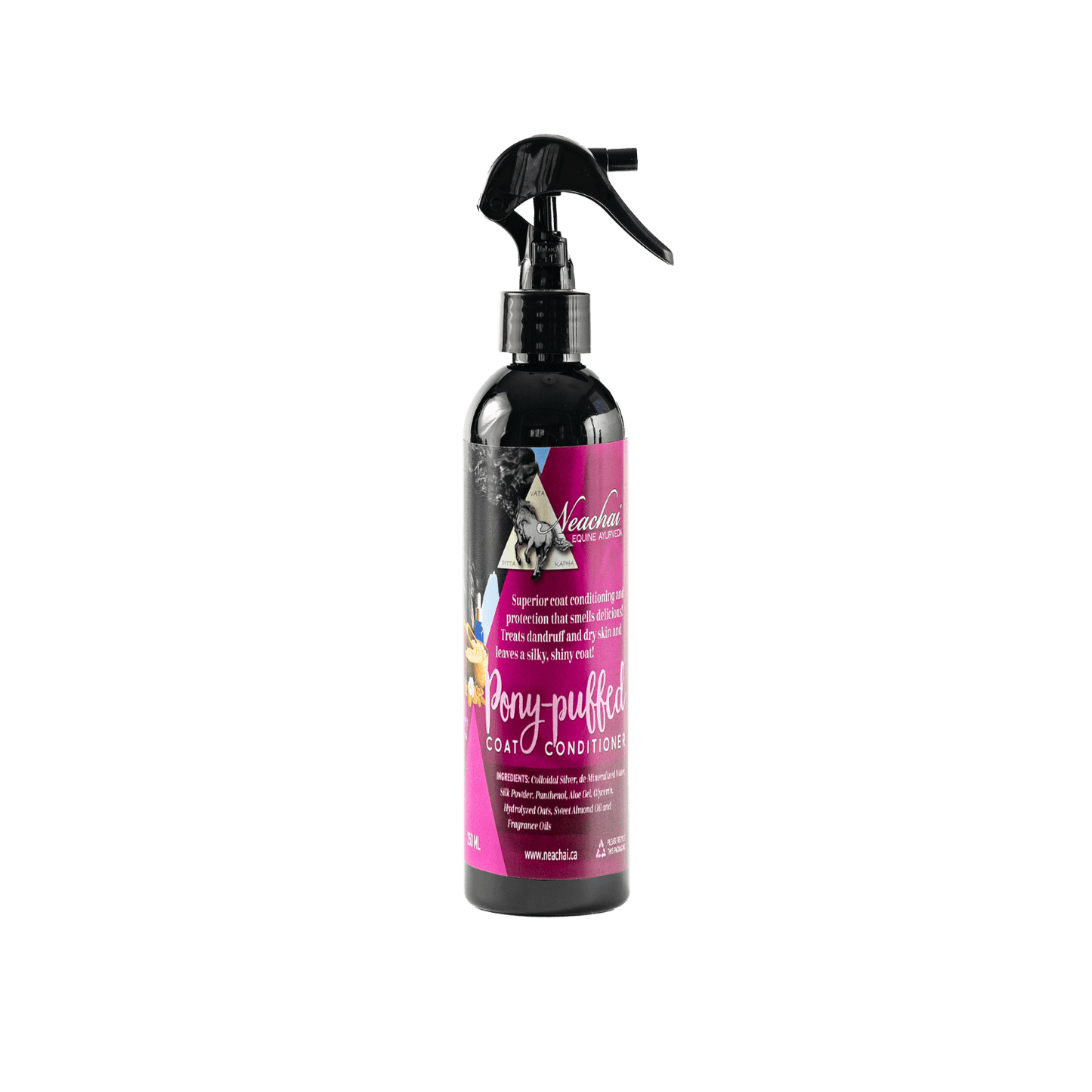 Silk peptides fortify the hair fibers, imparting a natural shine and reducing breakage. Panthenol serves as a reliable moisturizer that binds to the horsehair shafts for increased flexibility and strength. The soothing properties of aloe gel provide essential relief to your horse's skin, easing irritation and facilitating healing. Sweet almond oil and avocado oil deliver an extra layer of nourishment and protection against environmental stressors while achieving optimum coat health. The inclusion of colloidal silver fights against bacteria and fungi, maintaining a hygienic environment for your horse's skin.
Our Pony-Puffed Coat Conditioner comes with an array of enchanting scents that elevate the grooming experience beyond expectation. Choose from Sangria, Coco-Puff ,Creamsicle, Peaches N Cream , Watermelon, Key Lime Pie, and Pina Colada. We are now introducing an exciting "make your own" feature which allows you to customize the fragrance of your conditioner! Tailor-make the perfect sensory experience by selecting from our wide range of scent options or incorporating scents unique to you!
All Of Our
Wellness Products Are
Paraben Free
Cruelty Free
Pesticide Free
Eco-Cert
Cold Pressed Oils
Chemical Preservatives Free
SHOP
Herb Blends
Between prevention and maintenance lies disease. In Ayurveda, the stage of active pathologies expressed as symptoms is referred to as a Vikriti (Phenotype). It represents the body's expression of all that is in unrest, such as skin diseases, recurrent respiratory issues, behavioral concerns, and perpetual ulcers.

A custom protocol is needed when there is an existing condition which is not responding to allopathic treatment or when there is a need for a more specific approach.