Regular price
Sale price
$24.00 USD
Unit price
per
Sale
Sold out
Choose from our scents or *Create your own* - see below.

Pony-Puffed Shampoo, a luxurious and therapeutic shampoo specially formulated for horses. Enriched with a unique blend of natural and soothing ingredients, this shampoo aims to provide an unparalleled grooming experience for your equine while maintaining optimal skin health.

Infused with silk peptides, our shampoo fortifies the hair shaft, imparting strength and shine, while panthenol deeply nourishes and moisturizes the hair and scalp. The aloe gel imparts cooling and calming effects, perfect for soothing sensitive or irritated skin, while sweet almond oil significantly improves overall skin and hair hydration.

View full details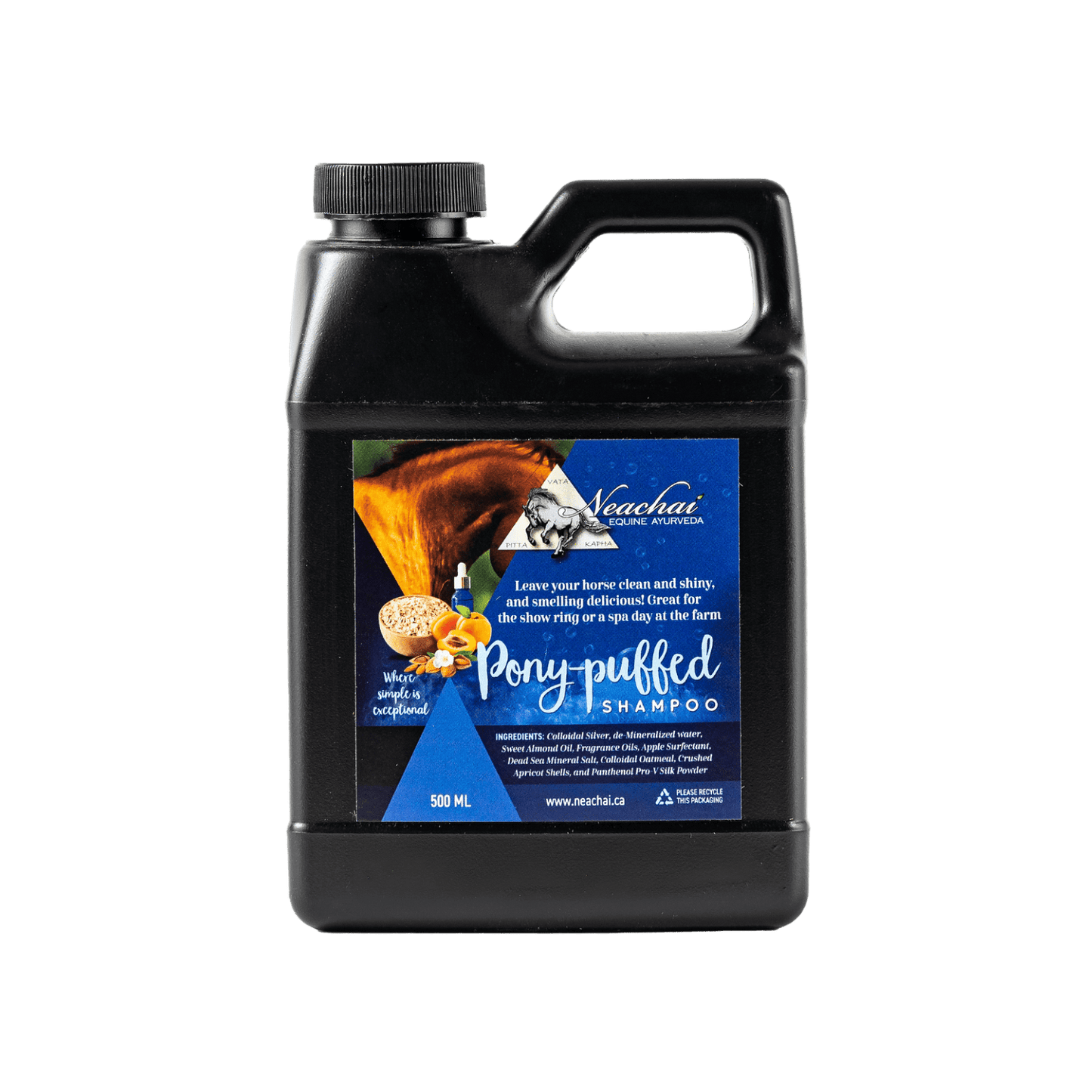 Gentle exfoliating properties are derived from finely ground apricot shells, ensuring a thorough yet delicate cleanse by removing dead cells from the skin's surface. The colloidal oatmeal aids in maintaining a healthy skin barrier, offering relief from itching or discomfort caused by dry or inflamed skin.
The addition of colloidal silver provides natural antimicrobial protection for your horse's skin, warding off unwanted bacteria and microbes.contains coco glucoside – a plant-derived cleanser that creates a sudsy lather without causing irritation providing your horse with vital skin protection from harsh outdoor elements.
Experience the ultimate spa-like treatment for your horse with our Pony-Puffed Shampoo—curated from premium therapeutic ingredients designed to leave your horse's coat shining radiantly while promoting superior dermatological health. We are now introducing an exciting "make your own" feature which allows you to customize the fragrance of your conditioner! Tailor-make the perfect sensory experience by selecting from our wide range of scent options or incorporating scents unique to you!
All Of Our
Wellness Products Are
Paraben Free
Cruelty Free
Pesticide Free
Eco-Cert
Cold Pressed Oils
Chemical Preservatives Free
SHOP
Herb Blends
Between prevention and maintenance lies disease. In Ayurveda, the stage of active pathologies expressed as symptoms is referred to as a Vikriti (Phenotype). It represents the body's expression of all that is in unrest, such as skin diseases, recurrent respiratory issues, behavioral concerns, and perpetual ulcers.

A custom protocol is needed when there is an existing condition which is not responding to allopathic treatment or when there is a need for a more specific approach.